Total Visual Agent is the world's most popular maintenance scheduling tool for Microsoft Access/Office and Visual Basic 6 (VB6) is now available for Microsoft Access 2016 (and earlier). This is the ninth major release of Total Visual Agent and introduces many enhancements to automate maintenance chores easier than ever.
To keep your Microsoft Access databases healthy, you need to regularly compact them. For disaster recovery, you should also be making backup copies of your database regularly. You may also have regular tasks such as printing reports that are performed regularly. Total Visual Agent does this and much more on a schedule you specify. Run tasks hourly, daily, weekly, monthly or just one time. Perform database chores, run Access macros or Windows command lines. A complete audit trail is maintained, and you can even be notified by email if something goes wrong. Total Visual Agent can also be run as a Windows service to restart if the machine reboots and for added security since a user doesn't need to be logged in.
Total Visual Agent 2016 leverages our vast expertise, and offers the best database management solution with many new features: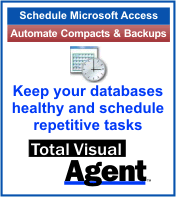 Supports Microsoft Access 2016
Supports Windows 8 and 10
Does Not Require Access to be Installed on your PC
Database Lock Error Identifies Offending Machines
Activity Log is Separated from Settings Database
Activity Log Shows Duration of Each Activity
Email Notifications Support TLS and Office365 SMTP
Tasks are Not Run at the End of an Event Interval
Enabled/Disabled Status Shown on the Event Form
More Robust Windows Service Feature
Improved Monitor Settings Tab
Default Location of Archive and Extract Folders Moved
Improved Setup Program
New user manual and help file
and More…
Download the free trial version today!
Easily Define and Manage Events, Tasks, Databases and Folders