Microsoft confirmed the Microsoft Office security update released on Tuesday (December 14, 2021) causes Microsoft Access databases on shared drives to be locked after users exit the database. This prevents other users from opening the database and multiuser database sharing. Customers reported errors like:
Could not lock file (Error 3050)
Could not use 'Admin' (related to workgroup security)
This file is in use. Enter a new name or close the file that's open in another program.
Several issues appear to be happening:
The first person opening the database is successful but an exclusive lock is placed on the database preventing others from opening it.
The Access lock file (*.laccdb or *.ldb for ACCDB and MDB databases respectively) is not being deleted after the last person exits the database. This makes the database seem like it's still being used.
This can also impact workgroup security files (*.mdw) that also have their *.ldb lock file.

From Microsoft:
This is due to the December 14, 2021 (Patch Tuesday) update to Office. The problem was introduced by a security fix, so it impacts all active versions of Access.
We are working on a fix, and will deliver it as quickly as possible.
The update has only updated a small percentage of users, and we are pausing automatic updates.
There will be a page added to the Fixes or workarounds for recent issues in Access (microsoft.com), which will be the place to go for updates.
These perpetual license updates introduced the problem :
KB 5002104 for Office 2013
KB 5002099 for Office 2016
Office 2019 Version 1808, build 10381.20020
Office LTSC 2021 Version 2108, build 14332.20204
For Microsoft 365 subscribers:
Current Channel Version 2111, build 14701.20248
Monthly Enterprise Channel Version 2110, build 14527.20340
Monthly Enterprise Channel Version 2109, build 14430.20380
Semi-Annual Enterprise Channel (Preview) Version 2108, build 14326.20692
Semi-Annual Enterprise Channel Version 2102, build 13801.21086
Semi-Annual Enterprise Channel Version 2008, build 13127.21842
If you have one of these builds, the only solution is to move back to an earlier build in the channel.
Microsoft published this new page with the latest information on this issue Error in Access when opening a database on a network file share
Rolling Back to an Earlier Version
These are Microsoft support pages for reverting to a prior update depending on your Office license:
FMS Suggestion
This problem is even in the Semi-Annual Channel which is never supposed to include such poorly tested changes.
To avoid such problems, disable automatic updates. While this is a drastic step, Microsoft repeated failed to release stable updates thereby causing more problems than they fix.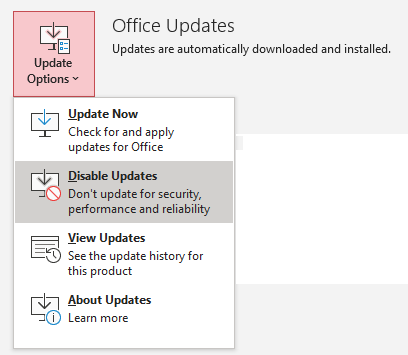 Additional Resources
We discuss this change in our previous blog: Error: "The operating system is not presently configured to run this application" with Access Database Engine (DAO.DBEngine)
Here's our page on Changing the Office Channel for Microsoft 365 Apps