Total Access Emailer is the most popular email automation system for Microsoft Access. Total Access Emailer uses your SMTP server to send emails. A popular choice is the SMTP server provided by Microsoft Office 365's Exchange Server.
Total Access Emailer and the Office 365 SMTP Server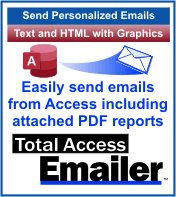 Assuming the account is properly configured to relay email messages (Mailbox Delegation), Total Access Emailer has supported Office 365 since it was introduced.
Over the years, Microsoft has increased security on their site and adjusted configurations for their SMTP server. You can connect via SMTP protocol using an approved IP address or Transport Layer Security (TLS) protocol for a specific email address.
Instructions for configuring Office 365's SMTP server are provided here:
Office 365 SMTP Relay Configuration to Send Emails via the Office365 Exchange Server
Problem with TLS Connections
In the last week, we confirmed that Office 365 and Windows made changes that cause Total Access Emailer to be unable to send emails with its TLS connection protocol with an error like this: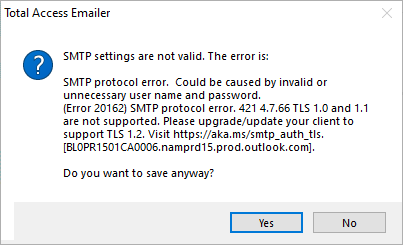 The message implies the need for TLS 1.2, but recent versions of Total Access Emailer already support TLS 1.2.
What is not supported is TLS 1.3 that recent changes with the Office 365's SMTP server and Windows seem to require. Here's a Microsoft article about TLS 1.3: Taking Transport Layer Security (TLS) to the next level with TLS 1.3.
NOTE: TLS still works with many other SMTP servers including Gmail's smtp.gmail.com (details for Using Total Access Emailer and Gmail).
Workaround: Use SMTP Protocol
If you are having trouble using TLS protocol, the SMTP protocol still works for Office 365. You need to authenticate your IP Address where you're sending the emails. Remember to use the Temail.txt to store the FROM email address to use for validation as instructed in the referenced page above.
We realize that is not possible for all the environments of Total Access Emailer users.
New Versions of Total Access Emailer
This has accelerated our ongoing development for a new version of Total Access Emailer to address the new protocols. Our development team has already created a solution that is working with the new protocols and hope to release it, as soon as it completes thorough testing. We expect to release these Access 32 and 64-bit versions:
New Product:

Total Access Emailer 2021 for Access 2021, 2019 and the current Office 365 version

Updates:

Total Access Emailer 2016
Total Access Emailer 2013
Total Access Emailer 2010
New versions are now available! Visit the Total Access Emailer page for more information on the new features or ordering information.
Receiving the New Version
Customers on Premium Support Contracts will receive a free update for their version when it is available. Existing customers will be able to purchase an upgrade at a discounted price.