We are excited to announce the release of Total Access Memo 2021! Total Access Memo lets you add rich text format (RTF) memos to Microsoft Access with sophisticated editing and spell checking. Our super-easy data binding means you can display rich text on your forms and reports and store it in your tables.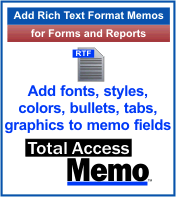 Give your users the ability to add text with different fonts, point sizes, fonts styles (bold, italics, underline, etc.), bullet points, tabs, paragraph margins, indentations, alignment, spacing between paragraphs, color, graphics, hyperlinks, etc .
Total Access Memo 2021 is an upgrade from the 2007 version and includes these enhancements:
Support for 64-bit Versions of Access/Office including 365
Backwards Compatibility
Improved Rich Text Editor
Enhanced Sample Database
Updated Manual and Help File
New Setup and Distribution Programs
Download the free trial to experience it for yourself.
Existing Total Access Memo owners are eligible to upgrade at a discounted price.