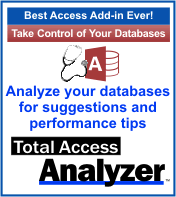 In conjunction with the release of Total Access Analyzer for Microsoft Access 2013, FMS is pleased to release updates for earlier versions of MS Access:
Click on the links for detailed information on the new features.
Background
Total Access Analyzer is the most popular Microsoft Access add-in of all time. It provides detailed documentation and analysis of your MS Access databases to help you better understand how your objects work together, detect problems, improve your designs, and enhance performance.
This update is part of the 10th major release of Total Access Analyzer since its debut in 1993.
Free Demo
A demo is available for you to see the types of documentation it generates using the sample Northwind database. Look at the results, filter and search it, and see the reports it generates: Demo Download
Existing Customers
Customers on an annual support contract for Total Access Analyzer or the suites it's in receive the new versions for free:
Other Total Access Analyzer customers can upgrade for a discounted price.