Major Alert: Office Update KB3085515 Breaks Microsoft Access 2010 Databases in ACCDE and MDE Formats
On March 8, 2016, Microsoft released an update KB3085515 for Office 2010. It addressed some VBA issues for Excel.
Unfortunately, the update of the VBE7.DLL file causes many Microsoft Access databases to fail. A heated thread on the Microsoft Community forum describes the problem: KB3085515 breaks MS Access 2010 reference
The updated file is:
C:\Program Files (x86)\Common Files\microsoft shared\VBA\VBA7\VBE7.DLL
Fix
Microsoft released an update that fixed this problem: Office 2010 Update KB3114989
---
The information below is from the original diagnoses of the problem
Impact
We are still determining the full impact of this bug. We know this impacts wizards in Access and customers of our Microsoft Access add-ins. It also impacts the people you support with our runtime distribution libraries referenced from your MS Access databases. At the very least we know it prevents running:
Microsoft Access databases in ACCDE and MDE formats (defined below).
Databases (ACCDB or MDB) with library references to ACCDE and MDE files.
Built-in MS Access 2010 Wizards that are ACCDE files.
ACCDE and MDE Database Formats
ACCDE and MDE databases are "compiled" versions of ACCDB and MDB database formats where form and report design changes can't be made and VBA modules can't be viewed or edited. They are "locked" to referenced DLLs, libraries, and other dependencies that can change over time…provided those dependencies follow Windows protocol for binary compatibility to identify new versions.
Unfortunately, the Microsoft Excel update of the VBE7.DLL file broke the VBA dependency by not creating the new version correctly. That causes previously developed ACCDE and MDE databases to stop working. This was not an issue for the Excel community since they don't have an equivalent "compiled" version of Excel spreadsheets (the VBA code is always exposed behind spreadsheets), but it kills Access Wizards and the ACCDE and MDE databases people create.
Microsoft Access 2010 Add-ins Won't Run
In addition to causing some Microsoft wizards in Access to fail, our Microsoft Access 2010 add-ins won't run since they are Access databases in ACCDE format. You may see messages like this when you try to launch them:
Microsoft Access can't start the wizard, builder, or add-in.
This feature isn't installed, or has been disabled.
There may be suggestions to reinstall the add-in but that won't help. This impacts these of our products:
Microsoft Access ACCDE Libraries
Some of our products include ACCDE runtime distribution libraries that let you incorporate our product's features in your application for distribution to your users. You and your users are impacted by this problem and may experience messages like these:
The code contains a syntax error, or a Microsoft Access function you need is not available.
File format no longer supported.
Customers using our redistributable runtime libraries in databases distributed to their users are impacted:
Microsoft's Response
The Microsoft Access development team is aware of this problem and is working on a solution as we speak. Microsoft has already stopped people from downloading the update and thankfully didn't release a similar update for Office 2013 and 2016. They've also published this blog post:
You may encounter errors with your ACCDE/MDE files and/or wizards after installing the March update for Office 2010 (KB3085515)
The hope is for a new update that fixes this problem. Timing of when that will be available is unknown, but we'll keep you informed as we learn it.
Current Solution: Uninstall the Update
The only solution is to uninstall the update. You can uninstall it from:
Command line, or
Control Panel.
Run a Command Line
You can run this line from the command prompt or put it in a BAT file if you want to share it with others: Note that we have reports that this may not work for everyone since it requires certain permissions:
wusa /uninstall /kb:3085515 /quiet /norestart
Uninstall from the Control Panel
The patch can be uninstalled from the Control Panel, Windows Update program:

In Windows 10, from the Windows Update screen, click on the Advanced options hyperlink: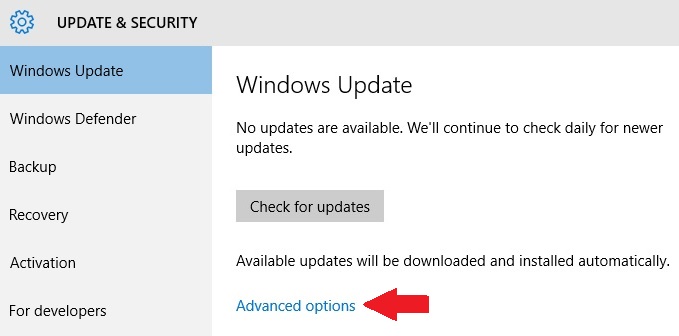 then click on View your update history: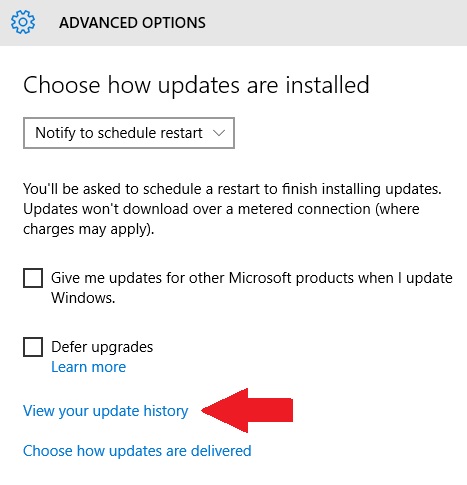 Choose Uninstall updates to see the list of installed updates: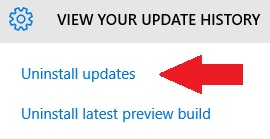 For Windows 7, click on the View update history link on the left border: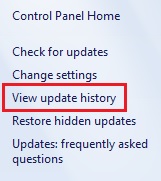 From the top section, click on the Installed Updates link:
List of Installed Updates
View the list of Windows updates installed on your PC, grouped by product which are collapsible. Go to the section Microsoft Office Professional Plus 2010 (or equivalent):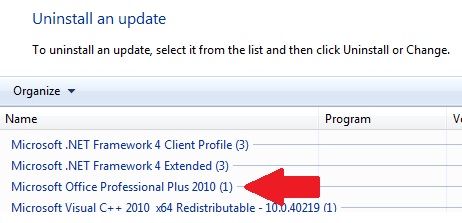 Find the KB3085515 update, click on it to uninstall and confirm it.