We are delighted to announce the release of Total Visual SourceBook 2013. Total Visual SourceBook is our royalty-free source code library for Microsoft Access/Office VBA developers and Visual Basic 6 (VB6) developers.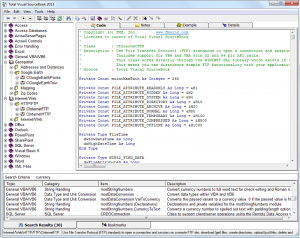 The new 2013 version is an upgrade to our Total Visual SourceBook 2007 version. The new version is especially designed for the new features introduced in Microsoft Access/Office/VBA 2013 and 2010. It can also run in Access/Office 2007 and older versions through Access/Office 2000.
New Features
Total Visual SourceBook 2013 includes 35 new modules, 25,000+ more lines of code, enhancements to existing modules including VBA code that's compatible with 32 and 64-bit versions of Office.
The user code database can now be upsized to SQL Server to simplify sharing code among your developer team. The new version also includes many enhancements to the code browser to simplify your experience in viewing, searching, adding, editing, and applying different error handlers to the source code.
For a complete list of enhancements, visit our New Features page.
Additional Resources