FMS is pleased to announce the release of Total Access Analyzer, version 15, for Microsoft Access 2013. Total Access Analyzer 2013 is our 10th major release of this product since its debut with Access 1.1 in 1993.
Total Access Analyzer provides detailed documentation and analysis of your MS Access databases to help you better understand how your objects work together, detect problems, improve your designs, and enhance performance.
Over 300 Types of Issues are Detected
Total Access Analyzer examines all your database objects in detail to find 300+ types of issues including errors that crash your application, unused objects and VBA code, design inconsistencies, and other best practices to maximize your investment in your Access applications.
390 + Professional Quality Reports
Over 390 filterable and customizable reports are available to document your applications and help you develop more efficiently. Reports include table/field dictionary reports, object cross-reference lists, module printouts, application flow diagrams, field and SQL consistency reports, and much more.
Discover why so many Microsoft Access enthusiasts made Total Access Analyzer the most popular Microsoft Access add-in of all time and the winner of every Best Access Add-in Award for decades.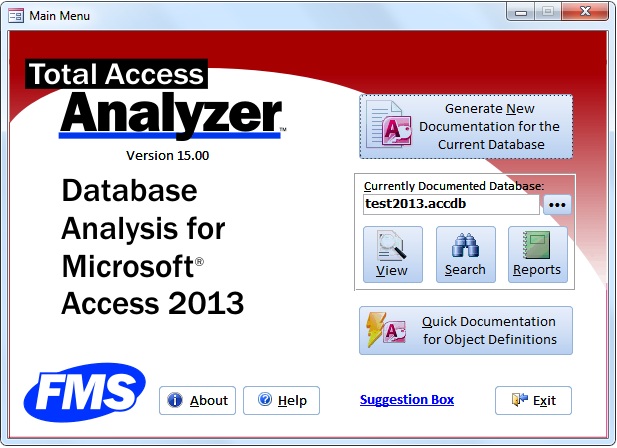 New Features
Total Access Analyzer is now available for Microsoft Access 2013 with many new features:
Supports Microsoft Access 2013, 32 and 64-bit versions
New documentation of Conditional Formatting
Documentation of Navigation Control and Buttons
Documentation of Web Controls
Support Procedure Calls to Libraries
3 New Module VBA Coding Suggestions
Enhanced VBA Module Parser for Compiler Conditionals
New Search Bar for Selecting Objects
Improved Open Documentation Form
Report Filter Shows Count of Issues
New Treeview with 64-bit support
New user manual and help file
and more!
Here's a complete list of new features.
Free Demo
A demo is available for you to see the types of documentation it generates using the sample Northwind database. Look at the results, filter and search it, and see the reports it generates: Demo Download
Existing Customers
Existing Total Access Analyzer customers can upgrade for a discounted price.