With the recent release of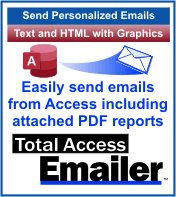 Total Access Emailer for Microsoft Access 2016, we are pleased to release updates of earlier versions to include the many new features:
Total Access Emailer 2013, Version 15.7
Total Access Emailer 2010, Version 14.7
Total Access Emailer 2007, Version 12.7
Total Access Emailer is the most popular email blaster for Microsoft Access. Easily send personalized emails directly from your Access database. Quickly communicate with every email address in your table or query. Use fields from your data source to customize each subject and message. Attach files from disk and also attach reports as PDF files filtered for each recipient.
The new X.7 version includes many new features since their previous version:
Email Validation to check the syntax of the values in your email field so you can flag invalid emails in your table before you send your blast
Save Attached Files to Disk. This lets you document the attached files sent to all your contacts without using blind cc (Bcc).

This can also be used independent of sending emails as a way to distribute files and PDF reports to disk. You can even create folder names based on field values.

Preview Saving Files to Disk
New VBA Function to Preview Email Blasts with Save Files
Code Generator Supports Preview Email with Save Folder
Support for Office365 and other SMTP Services using TLS
Enhanced setup for Windows 10 and 64-bit installations
Updated

user manual

and help file
Complete list and additional details of

new features in Total Access Emailer X.7

.

Download the free trial version and send your own personalized emails from Microsoft Access.
Create multiple email blasts in your database and run them at any time through the Total Access Emailer add-in Wizard: