We are delighted to announce the release of Total Access Detective for Microsoft Access 2013 and 2016. Total Access Detective lets you quickly find differences between any two databases or two objects in your current database, know exactly what changed at the table, field, property, control, macro line and VBA module code level. You can even compare tables for data differences.
Main Menu for Comparing Two Databases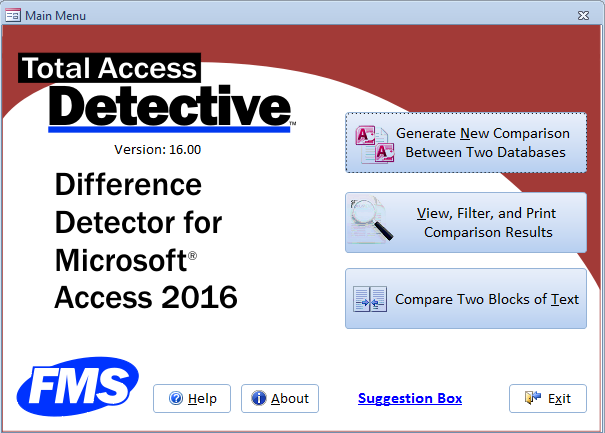 Add-in Menu to Launch Total Access Detective to Compare Two Objects in the Current Database

The Object Comparison Wizard: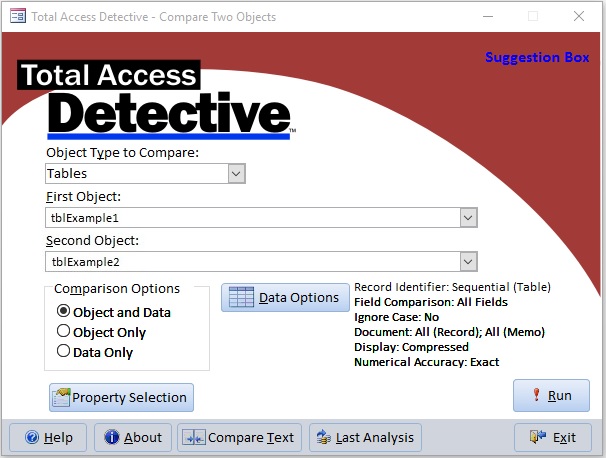 Enhancements
The latest version offers many enhancements from the previous versions:
Support for the 32 and 64-bit versions of Access 2016 and 2013
Module and Text Comparison Option to Ignore Line Numbers
Search Bar to Filter Objects and Properties by Name
See and Filter Tables based on Whether it's Linked
Procedures with Differences List
New Manual and Help File
For more information on the enhancements, visit: New Features in Total Access Detective 2016 and 2013
Existing Total Access Detective customers can upgrade for a discounted price.