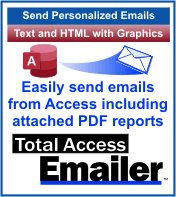 Total Access Emailer is the most popular email automation program for Microsoft Access. It simplifies the sending of personalized emails with Access data and reports to everyone on your list.
Total Access Emailer is now available for Microsoft Access 2013. Total Access Emailer 2013 includes many enhancements since the prior release of Total Access Emailer 2010 and the Version x.6 for pre-Access 2010 versions:
Enhanced setup for Windows 8 and 64-bit installations
Supports differences in VBA code between Microsoft Access 2013 and 2010
Improved support for linked tables in SQL Server and Access databases including situations when connections are lost
User interface improvements to better manage editing and duplicating email blast specifications
Professional Version VBA library detects if the user's machine has not run the runtime distribution EXE
Improved display of record counts for repeating multiple email blast broadcasts
Improved error handing and reporting
Updated

user manual

and help file
Here's a complete list of new features.

Download the free trial version and send your own personalized emails from Microsoft Access.