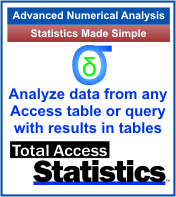 We are pleased to introduce new versions of Total Access Statistics for Microsoft Access 2007 and 2003; versions 12.9 and 11.9 respectively. They include the many features we introduced with the latest Access 2016 version.
Total Access Statistics is an add-in that is the most powerful data analysis program for Microsoft Access. It extends the power of Access queries to analyze the data in your local or linked tables. It generates results in tables you can view or include in other queries, forms, and reports. It offers a wide range of statistical functions such as:
Field Descriptives
Financial Cash Flow Calculations
Percentiles
Running Totals and Moving Averages
Field Comparison
Frequency Distributions
Regressions
Advanced Cross-Tabulations
Group Analysis (t-Tests and ANOVA)
Record Analysis and Rankings
Non-Parametric Analysis
Probability Calculator
New Features
Additional percentile types can be assigned to a field in your table
Enhanced data formatting
Improved financial calculations for IRR and XIRR
Updated user manual
Support for Windows 8 and 10
New Add-in and Runtime Library Files
Version 12.9 and 11.9 include new files for the Access add-in. It also has new runtime library files.
A digitally signed MDE library for MDB databases that support users of Access 2016, 2013, 2010, 2007 and 2003.
The Access 2007 version includes an ACCDE runtime library for ACCDB databases for Access 2016, 2013, 2010 and 2007 users
The Access 2003 version includes a runtime library for Access 2000 and 2002 users
For more information, visit New Version X.9 Features.
Try out the new enhancements with our