We are excited to announce our release of Total Access Admin 2016! Total Access Admin is our administrator tool to help you monitor the users going in and out of your Microsoft Access databases (ACCDB and MDB formats) in real-time:
See who is currently connected to your Microsoft Access database (you can manage multiple databases from one screen)
Monitor up to 150 databases at one time
Keep a log of users entering and exiting each database
Identify workstations or users disconnecting in a suspect manner which may be the source of database corruption
Compact your database when all users exit it
Prevent new users from logging into your database
Log off idle users
Communicate with your users in real-time
New Features
Total Access Admin 2016 is an update from the 2013 version and includes these enhancements:
Monitors ACCDB and MDB format databases created by Microsoft Access 2016 (32 or 64-bit version) and earlier versions of Access
Works in environments where Access 32 or 64-bit versions is installed, including installations from Microsoft Office365
Does not require Microsoft Access to be installed on the machine
Up to 150 databases can be monitored at one time (up from 100)
Setup program supports Windows 8 and 10, Server 2012 and later, with an option to launch the program after its installed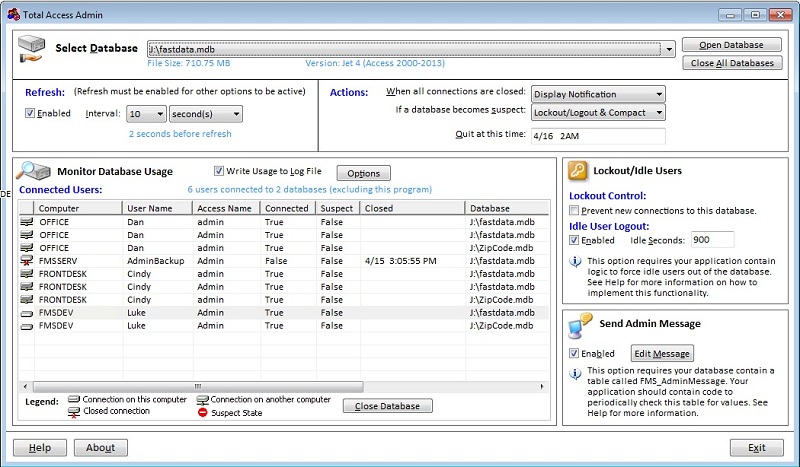 Download the free trial version today!
Existing customers can upgrade at a discounted price.