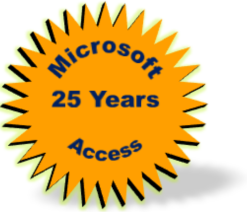 Microsoft Access is celebrating its 25th year this month. It's an amazing accomplishment for a software product to be so successful for so many years. We at FMS were there since the beginning.
Read our first hand, historical account of watching Microsoft Access take over the Windows desktop database market, and how we became the world's leading 3rd party developer of Microsoft Access products.
Discover how we watched MS Access rise from nothing to the leading Windows desktop database application. This directly caused the implosion of Borland International which previously dominated the desktop database industry. Witnessing this in person was an amazing experience of how quickly technology can change established, large software businesses.
This article was originally published by Microsoft on their website for the 10 Year Anniversary Celebration of Access (October 2002).
The video is from the November 1992 COMDEX conference where a very young Bill Gates personally announced the debut of Microsoft Access. He remains a big fan of Access and was actively involved in its design and development.