Microsoft Access MVP, Daniel Pineault, wrote a very nice review of our Total Access Detective program recently. Total Access Detective is a Microsoft Access add-in program that finds all the differences between two Access databases or two objects in one database. Changes with table and query structures, field properties, form and report controls and properties, macros, module VBA procedures and lines of code, and even data are detected.
Daniel found Total Access Detective very helpful when confronted with the challenge of determining exactly what changed between two Microsoft Access databases. Rather than manually and tediously trying to determine what changed, he used Total Access Detective to quickly generate a comprehensive comparison to find objects in one database and not the other, and a detailed comparison of objects with the same name. With Total Access Detective, he was able to pinpoint all the differences and make the necessary adjustments.
We were pleased he concluded with this: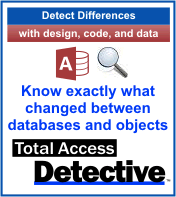 Final Verdict
"I am once again quite confident in putting my stamp of approval on this tool. If you are in a situation in which you quickly need to identify all the differences between multiple databases, FMS' Total Access Detective will make short work of the job at hand! …
A very nice, easy to use and most importantly, effective and thorough tool!"
To learn more about what Daniel discovered and his experience, read his full Total Access Detective Review.
Thanks Daniel!